Our volunteers make the difference! We accept volunteers of any background who are 18 and older. People of all genders can volunteer at RACES. To apply,
fill out the application
and email it to volunteer@cu-races.org.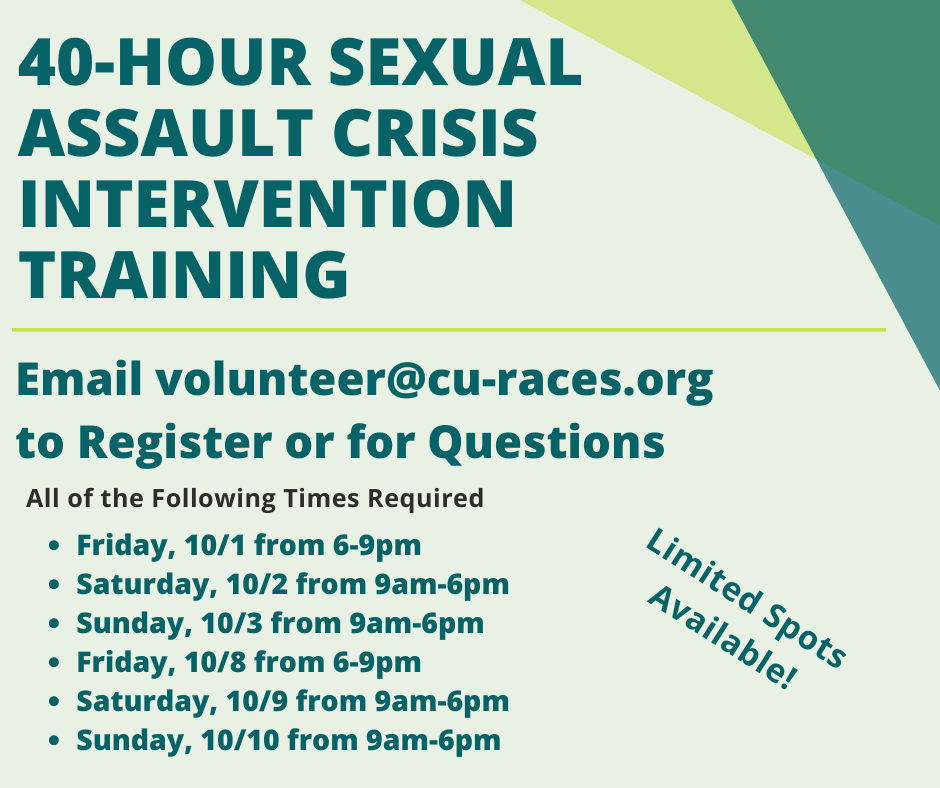 40-Hour Sexual Assault Crisis Intervention Training
RACES will be offering its 40-hour Sexual Assault Crisis Intervention Training over the first two weekends of October 2021. This training is a free prerequisite for volunteers.
This training is also available to allied professionals for a $50 fee.
All of the following times will be required:
– Friday, 10/1, 6pm-9pm
– Saturday, 10/2, 9am-6pm
– Sunday, 10/3, 9am-6pm
– Friday, 10/8, 6pm-9pm
– Saturday, 10/9, 9am-6pm
– Sunday, 10/10, 9am-6pm
We plan to hold this training in-person at our office in Urbana. To ensure proper distancing, we are are limiting the number of participants and all participants will be required to wear masks.
If you have questions or would like to register, please email volunteer@cu-races.org.
Frequently Asked Questions about Volunteering at RACES 
What volunteer opportunities are available at RACES? 
Our current volunteer opportunities include serving twice a month on our on-call Crisis Hotline. 
What are the steps to become a volunteer? 
The first step is to complete a volunteer application our website and submit it to volunteer@cu-races.org. Following the submission of your application, the Volunteer Supervisor will contact you for an interview. After the interview, you will need to complete the 40-hour Crisis Intervention training before beginning to volunteer. 
Acceptance to the volunteer program is contingent on a satisfactory background check. 
How do I know if I'm ready to volunteer at RACES? 
You are at least 18 years of age.

 

It has been at least a year since you have received services at RACES.

 

If you identify as a survivor, you have processed your experience and do not feel a sense of crisis in your daily life.

 

You are not currently struggling with substance abuse or self-harm that impedes your ability to volunteer

 

You have positive coping mechanisms and a strong support system.

 
What kind of training is involved? 
All of our volunteers must complete a 40-Hour Crisis Intervention training before working on the Hotline or serving at events.   
We require our volunteers to complete 6 hours of Continuing Education each year, with 2 of those hours being focused on family and children.  RACES provides opportunities throughout the year to complete your Continuing Education requirements.